i just moved to my new job. after two years of duty, i quit the old one with some pain for leaving few friends, but with a big relief.
i played a lot with LEGO briks in my childhood, it was (and still is) an amazing and creative activity for me.
"I just wanted to remind everyone that Saturday, January 19th 2008 will mark the beginning of the 30-year countdown to the Y2K38 bug, when Unix time will overflow 32 bits.
google released 23 translation chat-bots. you just send them a message and they'll reply back with the translation within a second.
je viens dernierement de faire la visite technique de ma voiture.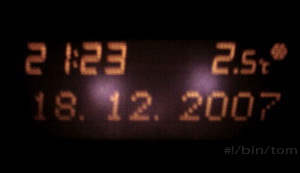 captured via my mobile phone. ps : it was somewhere between sfax and gabes, precisely at "el hchichina".
en zappant indifferamanet hier soir chez moi, j'ai tombe sur ce film sur mbc 3 ( oui je sais, c'est la chaine enfantine )
j'ai pu voir hier soir le dernier film d'animation de la production dreamworks ecrit par l'incountournable jerry seinfeld.
i was surfing when i found this funny [ and right ] article.